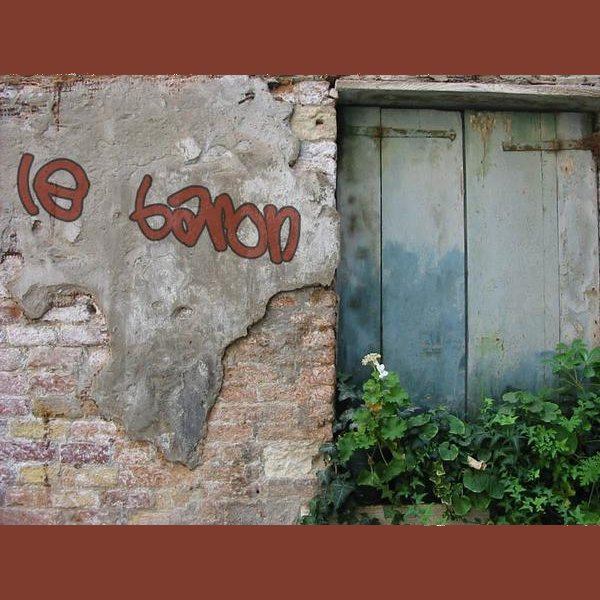 On this day 10 years ago, LeBaron's final recording session took place.
"What's LeBaron?" You might be asking.
LeBaron was a music experiment that arose organically in the summer of 2007. The band consisted* of Kol Fenton, Stephen Navarrete, and me. It lasted only a few months. The album that we put together, Stambaugh Sessions, is the oldest release that I played on that I still thoroughly appreciate to this day.
The series of recording dates that comprise Stambaugh Sessions began spontaneously. One day, the three of us ended up hanging out in our buddy Anthony's garage, which had been given the name Chestnut St. Arms. Bella Drive, Steve and Kol's band with Daniel Hendrickson (who I later collaborated with in Phantom Float), practiced there. As a result of that arrangement, Steve and Kol were there frequently, and I would come by occasionally to see what my friends were up to. That's how this place was. If you made music there, you were likely to have an audience of a few people hanging out while you worked on stuff.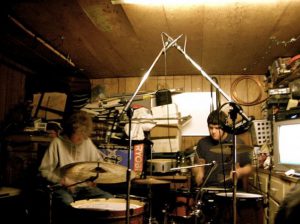 Somehow Steve and I got the idea to split his drumkit up and each play half of it. In my corner of the space, I flipped the kick drum onto its side and played it with sticks, along with a snare and a ride. Over in his corner, Steve set up a snare, two toms, and a small crash. The hi-hat was positioned so that either of us could use the foot control or hit it with sticks.
We messed around jamming for a bit. Kol grabbed a guitar, turned on an amp, and… suddenly LeBaron was happening.
We played for maybe twenty minutes with a few friends watching. As we finished up, someone who was sitting in a recliner on the opposite side of the room (I can't remember who at this point) said, "That was actually really interesting. You should come back with your recording stuff and do that again."
So we did.
In total, there were 4 recording sessions. Each one had a very limited audience, but enough to give it a little bit of "event" energy. Now that it's been so long, I'm not sure who witnessed these performances.
Each session was unique in some way. There are clues in the songs as to which songs were recorded on which occasion. The fretless bass was only used one of the days. The pedalboard was significantly expanded on one of the sessions, bringing in some extra sounds. On a different date, we allowed Aqua Teen Hunger Force to play on the TV in the background of all the recordings. During our third session, Ryan Moyer joined us and played an empty wine bottle with a drum stick. The rototoms and samples are present in some, but not all, of the recordings. And there was a bugle at one point.
Each time we would finish a take, we would listen back to it and see what we had just done. Some songs were titled immediately as we were listening back for the first time. "This part sounds like when you're doing badly Taking a Test and getting more and more frustrated." A few were actually given titles before we even played them. "Alright. This next song is called Gangsta Situations no matter what it sounds like." Most of them were left untitled at this point, though.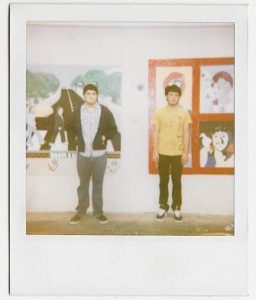 I think we settled on the name LeBaron during our first recording session. The conversation went something like this:
"Okay, I have an idea. What's the most non-descript, not-noteworthy car that you can think of? Something you wouldn't be embarrassed to drive, but also wouldn't be excited to drive at all?"
"…I dunno. A Chrysler LeBaron?"
"That's IT! Boxy piece of junk."
"Hmm… LeBaron. I like it."
After our final recording session, I took the Tascam 4 track cassette recorder we had been using back to my house and digitized all of our tapes. We posted the files online, but had to cycle them out over time since Myspace would only let you post 3 songs at once. Within a few months we had moved on, playing in our more traditional bands, and that was that.
But I wasn't happy with how our work was left incomplete. The songs had never been properly compiled, mastered, and released. In 2010, after I moved to Washington, I decided it was finally time to work on it. This was when the songs were given an order, and also when all the then-untitled songs were given names. Hard for me to believe that's now 7 years ago, and that it's been 10 years since they were first recorded. Time flies.
* We decided shortly after our last session that LeBaron technically never ended. If the three of us ever end up playing together again in the future, it's still LeBaron. We all live in different parts of the country now, but hey, you never know what could happen.