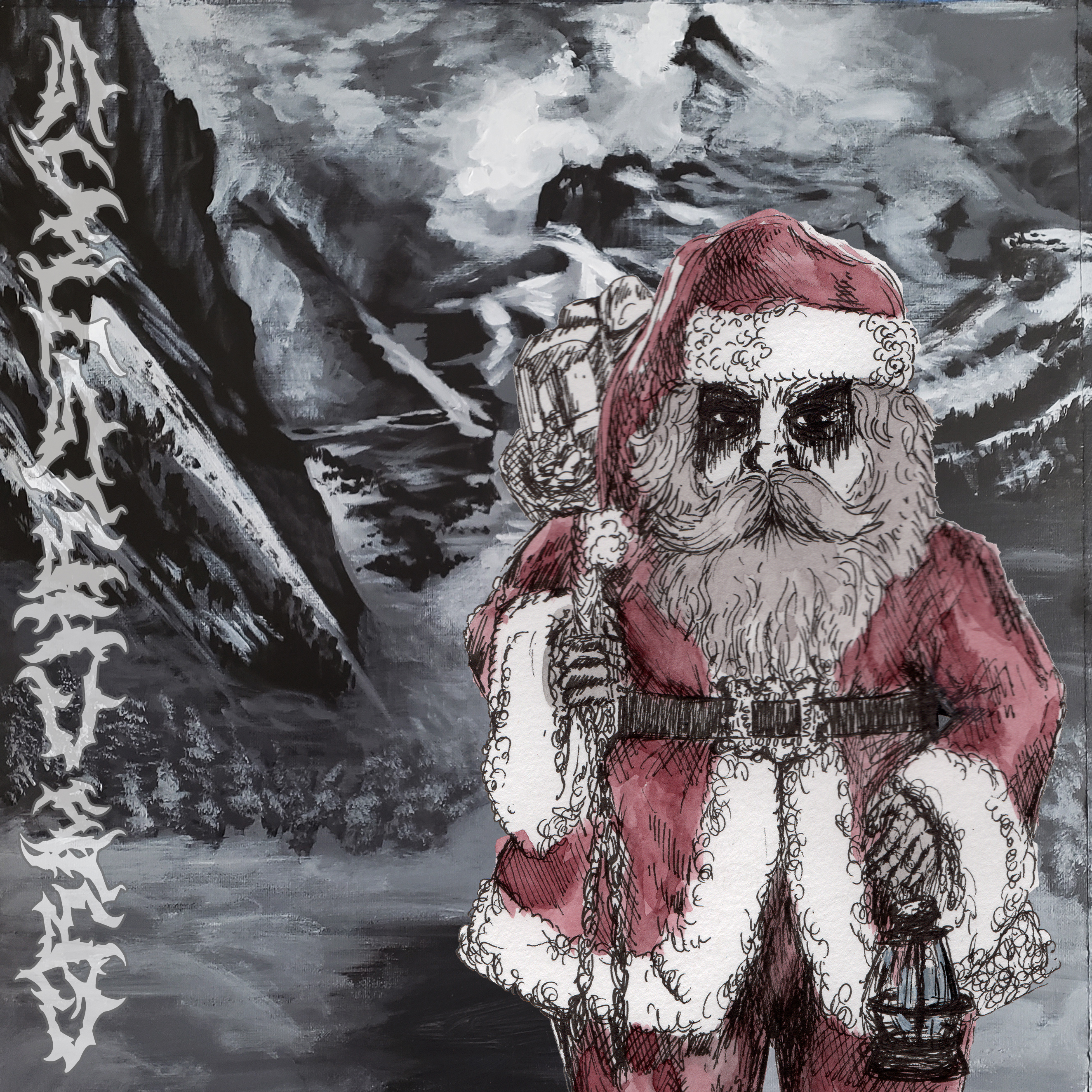 (select 1080p for HQ audio/video)
Backstory:
Just over five years ago, while walking on the beach on a gloomy November day in Aberdeen, I had a thought: "What would Christmas carols sound like if they were turned into black metal?"
It was just a passing idea. I think the possibilities of playing around in that style were on my mind because I had just finished recording A God or an Other's debut album, Towers of Silence, which heavily drew from the black metal lexicon. For whatever reason, the idea for this album really stuck with me. I knew I had to make it.
Obviously it had to be released during the Christmas season, but it was definitely too late to do so that year. There was no way I could arrange, record, and release it in just a few weeks. I could have recorded it and waited until the next year to release it, but I've always found it unpleasant to sit on finished releases for more than a short period of time. So I decided to wait ten or eleven months to begin.
Well, the next year came and the same thing happened; by the time I finally started considering working on it, it was too late to begin. This process repeated for the next four years. I was annoyed with myself each year, but now I recognize it's for the best. Shortly after I came up with the idea, I ended up joining A God or an Other as the band's drummer, which dramatically increased my blast beat chops over time. Half a year after joining, I started contributing vocals as well. My bandmates were really good at tremolo picking on guitar, and so being in the band also encouraged me to develop that skill. All those hours of practice within the style really helped bring about a superior end result compared to what this album would have been if I had recorded when the idea first struck me.
One other benefit to waiting 5 years between the inception of the idea and its execution is that I spent a lot of time between then and now expanding my understanding of music theory. This made the transmogrification process much more successful than I think it would have been in 2013.
Anyway, inspiration finally struck in September. I knew that this was the year. But there were two things making it a little more challenging than it normally would have been. First, I was insanely swamped with overtime at work. Second, my wife and I had (and still have) a newborn at home, and taking care of him requires quite a bit of work. My time was quite limited. But when I feel compelled by those mysterious creative forces to make something, I have to do it. So I found time. Most of this album was arranged and recorded between the hours of 5 A.M. and 6 A.M. on weekdays before I headed off to work. The process was a little rough but totally worth it.
Process Notes:
I picked public domain songs purely for legal reasons, as I would like to be able to use these in any way that I may see fit in the future.
In order for a song to be picked, it had to be originally written in a major key, as it would not be as dramatic or as fun of a transformation to do a song that was originally composed in a minor key. I really wanted to play around with some of the more exotic minor scales instead of exclusively using aeolian mode. It was fun to utilize sounds like neapolitan minor and harmonic minor and to build some four part harmonies with them.
The last qualification for picking songs is difficult to explain. They had to make me feel some sort of… resonance… within myself. This has to do with the history of my early life. I'm not a Christian, but I was raised Catholic, and that upbringing had quite an impact on me. I heard these songs so many times in mass over the years. It is enjoyable for me to hear these representations of that part of my life turned around into something that is now meaningful to me in a new and very different way.
Until 2013, I was certain I would never make a Christmas album. Now here we are. Life is strange.
I hope you enjoy listening to it.
Cover art by my wife, Laura Lervold.
Cassettes are available through the Bandcamp and Big Name Records.