Post-Americana's Bandcamp description states that it "is dedicated to everyone who has ever thought about hurtin' themselves over now seemingly silly feelings." That is a fitting summation of the tone of the album: moving forward while looking back, growing to see the world as a more fun and inviting place despite the pains that come with being a part of it.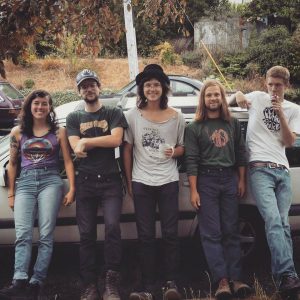 The album title is a suitable description of its own genre. Post-Americana is folk rock with a healthy dose of Olympia weirdness. It's slightly offbeat without ever getting obtuse, managing to be accessible without ever getting boring. Some artist comparisons that could be made are Neil Young, Buffalo Springfield, The Beatles, and early Dr. Dog. At times, the album is reminiscent of transitions, overcoming, or being on the road (Dead Dog Eyes, Life Is a Book, I Don't Need No One to Win My Freedom), while at others it sounds contemplative and wistful (Memorial Day Crossroad Blues, Florida Blues, Empathy/Apathy). Some songs are snarky and fun (The River Because, Leave Me Be), while others are dark and brooding (Florida Blues, Kindness Comes). These vacillations seem to be a central theme of the album.
At the time of recording, the band consisted of Stevie Smitty (guitar and vocals), River Nason (guitar, keys and backups), Tanner Dunn (bass), Josh KoKo (drums), and Emily Metcalf (cello). Each musician has a good sense of when to step forward and when to step back so that the whole is greater than the sum of its parts. Though the vocal style is subdued, Smitty keeps it interesting by imparting an earnestness in his performance. The lyrical content is surreal, artful, and open to interpretation, which leaves the listener with a sense of curiosity. Sometimes the vocal harmonies are three or more layers deep, enhancing their depth. KoKo's drum parts are groovy and always maintain a good musical sensibility, while Dunn's basslines provide a solid glue between percussion and melody. Metcalf's cello additions provide emotional weight to the songs on which they are featured, and Nason's keyboard parts complete the sound, laying in a retrofuturist bent. This anachronistic addition somehow fits right into place.
Track by Track
The album begins with the anthemic Dead Dog Eyes. It nods to Pachabel's Canon in D, immediately conjuring a sense of familiarity, welcoming the listener. The very first line ("They came in through the front door…") seems self-referential. The song is reminiscent of traveling, changing, and looking ahead.
Memorial Day Crossroad Blues arrives thereafter, and the tone changes to become more contemplative and pensive. This song brings to mind life-changing decisions and the repercussions that all choices have ("My mind knows which way to go… at the crossroads").
The River Because moves back into that sense of forward motion, this time with a fun and almost snarky attitude. One highlight is when Smitty sings, "And I will eat my slice of cake," which Nason punctuates with a quick chord from the keys. The song's end is one of the most satisfying musical resolutions on the album.
Please Excuse Me (4th Ave Blues) returns again to a more reflective state, and it becomes apparent here that this cycle is a theme of the album. The song evokes images of kicking rocks down a country road. The cello work stands out in particular on this track.
Leave Me Be's beginning is hard to resist; one can't help but want to whistle along. The song has a plucky quality on the guitar, cello, and keys. There's a sense of subtle irritation ("Leave me be, just leave me…"), but also one of trying to get along regardless.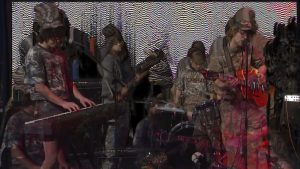 Rendezvous on North Roger Road then functions as an interlude for the album. Its instrumentation is very different from the preceding songs, featuring just a piano, a kick drum, and a very lo-fi nylon guitar. The laughter left in the background is a nice touch. This song provides time for the listener to take a breath before the album's epic.
Life Is a Book returns to that traveling spirit developed earlier, a sense of restlessness and the desire to wander and discover. It goes from light to dark, and when Smitty sings "How does the blood in your mouth taste?" the song takes on a cathartic nature: justice was somehow served.
Florida Blues provides a second interlude on the opposite side of Life Is a Book. It's the only instrumental on the album. Its lost, brooding character is an interesting dynamic addition to the more upbeat quality of most of the songs.
I Don't Need No One to Win My Freedom brings the album to its final upswing. This song evokes feelings of rejecting the norms and doing your own thing, reflecting the process and content of the album as a whole. The keyboard solo toward the end of the song is Post-Americana's climactic moment.
The album begins to wind down as Empathy/Apathy arrives with its nylon guitars. The song warns of getting too calloused as a result of being hurt, calling for the listener to remain brave. The outro in this song is the strongest of all of them, highly reminiscent of The Meat Puppets' Plateau.
Kindness Comes closes out the album. The nylon guitar returns to its lo-fi sound, and the bass is conspicuously absent, as though Dunn took off early because things fell apart. It's an interesting choice for the closer track. One would expect a triumphant, driving piece to finish it off, but instead we get melancholy and mellotrons. The subversion of expectation has a greater impact than if the album were closed out with something more like I Don't Need No One to Win My Freedom, Life Is a Book, or Dead Dog Eyes. The album quietly dies instead, as if everything took a turn for the worst. It's a surprise punch in the gut.
Post-Americana is an excellent effort that reflects the spirit of today's Olympia. The album is well worth a listen. It is available on Bandcamp for purchase or free download. You can also find Sawtooth on Facebook.